Early fireplaces had to be huge, to accommodate cooking utensils and because they were the only source of light and heat. For practical purposes, they were located in the center of the room, but improvements in chimney design eventually enabled the fireplace to be placed on an outside wall. In turn, this facilitated the advent of the mantle and decorative surround.
By the 1700s, many homes had multiple smaller fireplaces to provide heat for individual rooms. And as the century progressed, homeowners who could afford more decoration were installing hand-crafted wooden mantles or facing their fireplace with imported ceramic tiles. Mantels became works of art featuring decorative corners, columns and moldings, often designed and carved by noted carpenters and sculptors,.
In the 19th century, it also became fashionable to hang a framed portrait of some important family member over the mantel, because the fireplace was considered a 

place of honor.
Pre-Civil War Fireplace Mantels

Thomas Jefferson – president, architect and wealthy landowner – designed Monticello with eight fireplaces. The mantels were constructed of wood, with handsome but not particularly ornate detailing. 1
Throughout the antebellum south, plantation and in-town mansions featured similar fireplace mantel designs. The mantel in this 1849 mansion used as a Confederate headquarters reflects the home's Greek Revival architecture.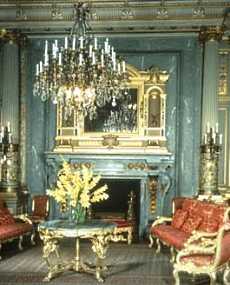 Mantels of the Gilded Age
Following the Civil War, the American north enjoyed tremendous growth. And the industrialists whose names are now legendary -- Rockefeller, Vanderbilt, Carnegie, Astor – became extremely wealthy.
They began building grand mansions with dozens -- even hundreds -- of rooms featuring fireplaces that were often enormous, in keeping with the majestic scale of the homes themselves. Mantels were elaborate surrounds, sometimes extending all the way to the ceiling and usually featuring intricately hand-carved marble and other types of imported stone.
In 1873, Mark Twain and Charles Dudley Warner published a novel called The Gilded Age: A Tale of Today, a scathing satire juxtaposing the ostentatious wealth of the industrial elite against the tremendous poverty and other social problems of the day, and the name stuck.
As the 19th century drew to a close, the wealthiest families continued to escalate their efforts to out-opulent one another, and fireplace mantels of the rich and famous "robber barons" became iconic emblems of the Gilded Age.  
The Breakers

Considered the penultimate Gilded Age mansion, The Breakers was built by Cornelius Vanderbilt II in Newport, Rhode Island, where many of the most affluent families congregated for a few weeks each summer. It was completed in 1895 at a cost of $12 million (well over $300 million in today's dollars).  
The library's stone fireplace was imported from the 16th century Chateau d'Arnay le Duc in Burgundy. Its elaborately carved mantelpiece includes an inscription which, translated, says "I laugh at great wealth, and never miss it; nothing but wisdom matters in the end."
The dining room fireplace mantel and surround are carved gray marble, topped by a hood fashioned from dark gray Cippolino marble. The breakfast room fireplace mantel is made of Paonazetto Italian marble, and the mantel in Cornelius Vanderbilt II's bedroom is gray and peach Numidian marble. The music room features a mantel of uniquely colored marble with gilt and mirrors. 3
Biltmore House

Also completed in 1895, this 250-room mansion was built in Asheville, North Carolina for George Washington Vanderbilt. It has 65 fireplaces. The Banquet Hall fireplace is actually a trio of walk-in fireplaces topped by an intricately carved frieze, which is in turn topped by a sloped hood.
Even the "rustic" lodges built by the wealthy to get away from it all featured massive fireplaces.
Imitating the European Aristocracy 

Most Gilded Age architecture and fireplace design was intended to emulate European palaces, the Chateau at Versailles bring the quintessential example. Though the original part of Versailles was constructed prior to the 18th century, each succeeding Louis – and his queen -- added to the palace and often demolished or remodeled existing portions as well. As we know it today, Versailles has 1252 fireplaces.
The Salon d'Hercule was added in 1722 by Louis XV. 7 And not long before the French Revolution, Marie Antoinette ordered a red marble mantel installed in her bedroom, only to have it torn out a few months later. Speculation is that she changed her mind about the mantle because the red marble had originally been installed in Louis XIV's bathroom.
Whether your taste runs to gilt, mirrors and plenty of marble or something less involved, mantels of the 18th and 19th century can spark ideas for your 21st century fireplace. 
June Samuels is a DIY home improvement blogger and an environmentally friendly home heating and cooling design expert at MantelsDirect.com.